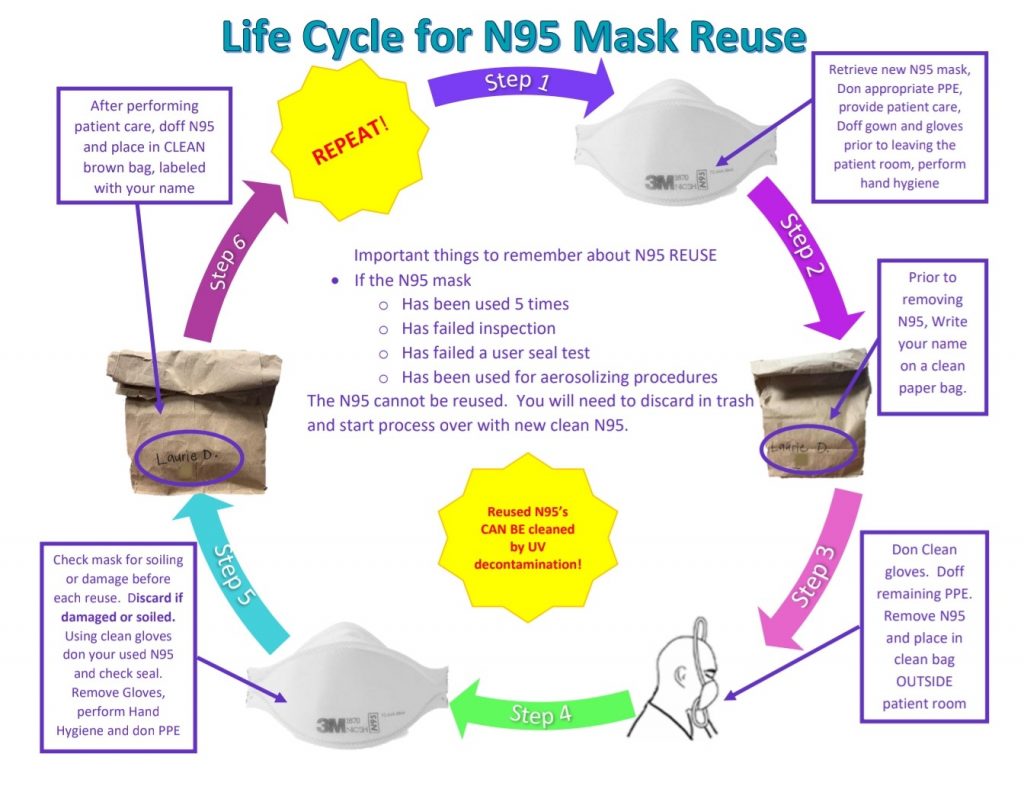 In my last post about the status of testing for Covid-19 testing, things were not going well here in North Carolina. Our inpatient testing time was up to 8 days through LabCorp, and we had completely stopped any outpatient testing, including drive-through testing.
PPE supplies remain short for our health system, particularly N95 masks, and our hospital has been working tirelessly to acquire more but most of our orders have gone unfilled or partially filled. To that end we have adopted CDC guidelines on how to recycle the disposable masks to prevent us from running out completely. As you can see from the figure above, the system upon which our lives and our patients' lives depend, hinges on the use of brown paper bags. This is not exactly the high technology we imagine when we think of American healthcare, yet that is where we are at now.
This is how the process works; when leaving a COVID-19 patient room, we write our name on a brown paper bag as well as the number of times the mask has been used, then drop the mask in the bag and leave it at the entrance to the patient's room. That mask is then only to be used by that healthcare worker with that patient. Each time they use it, we update the number of times the mask has been used. Once the mask has been used 5 times, the mask is discarded. We have supplemented this by using U.V. light to disinfect the masks between uses to help reduce the chance of spread.
In the meantime I am glad to report that at least our local testing situation has improved. Up until this week we were having to wait an excruciatingly long 8 days for inpatient COVID-19 test results (we've already given up on any semblance of outpatient testing). By contracting with a lab in Texas, we have gotten the test results down to 2 days. Sometimes it's one day, and that literally depends on (believe it or not) if the sample can catch the 8 pm out of RDU.
Abbott released a 15 minute test on their IDNow platform. I discussed previously why that is not an option for us, and indeed not an option for many at all. Our hospital uses the Cepheid's GeneXpert system and they've come out with a test with a 45 minute turnaround time. Like Abbott they, too, have been focusing on supplying new test cartridges to hotspot areas, which fortunately we are not. Hopefully once these surges have calmed down we might have access to that test and, at long last, be able to actually start screening people outside of the hospital.
Meanwhile, I'll continue to soldier on with the testing and PPE that we have and do the best I can.
Deep Ramachandran, M.D. is a Pulmonary, Critical Care, Sleep Medicine physician, founding CHEST Journal Social Media Editor, and co-Chair of ACCP Social Media Work Group. He blogs at Caduceusblog. He is on twitter @Caduceusblogger.